Posted by Prestige Billiards on Jun 19th 2018

Prestige Billiards teamed up with KUPD's Morning Sickness for the Man Cave Upgrade. One lucky grand prize winner got to take home four amazing game tables to create the ultimate game room. And on June 15, Troy V. blew away the challengers to win the grand prize. Congratulations, Troy!
While Troy awaits delivery of his new favorite toys, he agreed to chat with us about the contest and how he knew he was destined to win.
Prestige Billiards: Congratulations on your man cave upgrade, Troy. Very cool! How did you feel when you won?
Troy: Very excited!
PB: When you won that first daily challenge, did you just know you were going to win?
Troy: Well, I was hopeful I'd win. Though I did feel like I dominated those qualifying challenges. I listen to KUPD every day and every morning I'd call in as soon as I heard the announcement. I actually got through three times, but the Guadalupe Squares challenge was the one that landed me my entry in the contest.
PB: Wow, that's dedication. You probably weren't surprised to make it through the qualifying round. How about when you became one of the five finalists? Were you surprised?
Troy: Yes and no. I was afraid trying to qualify more than once might hurt my chances. I thought, "Maybe they'll disqualify me for that." Obviously, they didn't.
PB: You had three challenges once you made it to the finalists. Which challenge was the most difficult?
Troy: The root beer bong, no question.
PB: Right? Alcohol is a lot easier to get down.
Troy: Definitely. Root beer is so foamy, and going through that tube it just sits like a gassy knot on the top of your sternum.
PB: Ugh. I'll stick to beer. Which challenge did you like best?
Troy: Well, I actually love to sing, so I liked the singing best.
PB: Very cool. What song did you choose?
Troy: "Sail On" by The Commodores.
PB: Brave! But, we should tell readers: Troy did a great job on a challenging song. Part of the challenge was stage presence. Did you work on any dance moves or just rely on your singing?
Troy: (Laughing) No dance moves, I just sang.
PB: It was good enough to win the challenge. So, are you planning a party to celebrate your big win?
Troy: Yes. I've been remodeling. I even had some friends over this weekend, helping me get ready for the tables to be delivered on Wednesday. We worked hard to make sure the room is ready.
PB: Which of the four tables is your favorite game?
Troy: Pool, definitely. I had a pool table when I was growing up. But I have to say, I've also really gotten into shuffleboard lately. I'm looking forward to that one. It's a 12' table, too, so that should be a challenge.
PB: We're really glad KUPD and Prestige found such a great winner for the man cave upgrade. It sounds like you're going to get a lot of fun out of those tables. Your house is probably going to be the center of holiday gatherings for a while.
Troy: It kind of already was but yeah, I figure I'll be the host now.
PB: Thanks for talking to us Troy. Is there anything else you'd like to share?
Troy: I want to say thank you to Prestige Billiards and KUPD. This is really a dream come true. It's amazing.
The team at Prestige Billiards wants to say thanks to Troy, too. We can't think of a nicer guy to have won the Man Cave Upgrade contest.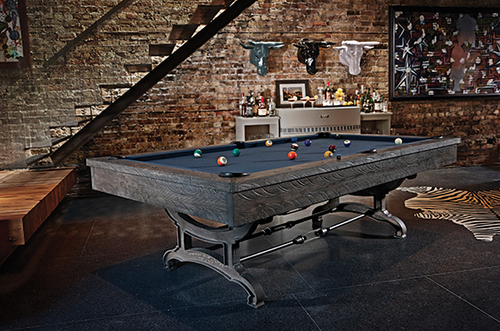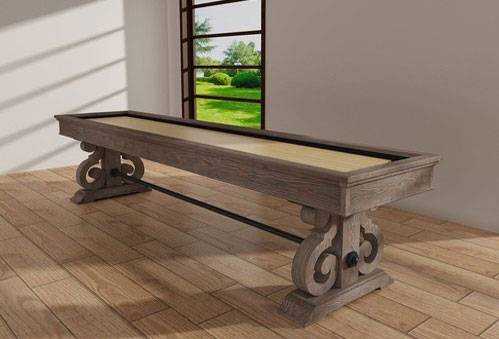 Barnstable 12ft indoor shuffleboard table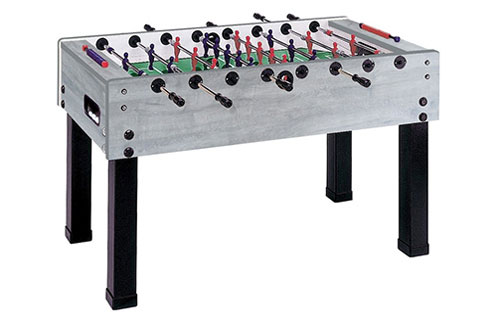 Garlando Grey Oak Foosball Table