Introduction: shuffleboard is a game traced back more than 500-600 years in Europe, especially the UK. The game has since become a popular American pass time played in twos (one player at each end of the table) or doubles (two players at each end) of the Shuffleboard table. The aim of the game is for players to take turns shooting a puck, and after a coin toss, who gets to go first on the table? There are professional rules that apply at each stage of the game.
What are Shuffleboard Tables?
Shuffleboard tables are tables upon which the shuffleboard game is played. The tables vary in size ranging from 9-22 feet (length), 16-20 inches (width), and 2-3 inches (thick). They are made of sturdy and durable hardwood types. Shuffleboard tables have distinctively smooth surfaces built for the easy glide of the pucks as they are shot by the players.
The tables have special powder preservative powder & pain that allows durability and a fine coat look for a professional appeal. There is a need for sufficient space on either end of the Shuffleboard table to allow easy and smooth player movements in a shuffleboard game.
So what are the basics to look out for when buying high-quality shuffleboard tables? Let us learn more below.
Comprehensive Guide to Buying Shuffleboard Tables
Shuffleboard Table Sizes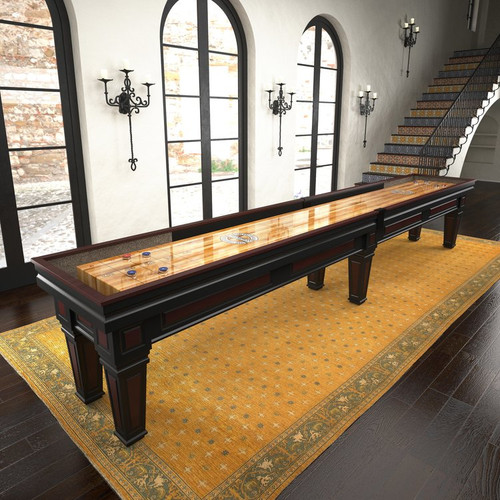 Trying to recreate a professional look and appeal in the playing arena means getting the exact size table fittings and sizes. Shuffleboard tables range from 9-22 feet (length), depending on your preferred size and space for placing.
You can only buy a Shuffleboard table that you have a place to fit. Excessively large tables without enough space waste your time and resources. Buy precisely needed and affordable tables for your needs.
Shuffleboard Table Build Quality & Style
Shuffleboard is primarily game played full-time on the table & a sturdier durable table is desirable for years of play. In truth, for passionate fans & players, choosing a good Shuffleboard table is a lifetime investment. The vital build of the tables with hardwood is the latest style in playing aesthetics. Most buyers want a professionally robust board or plank that lasts a lifetime and seasons or Shuffleboard table game play. It's a major factor to consider while looking for a Shuffleboard table. Traditional and contemporary Shuffleboard table styles must have enduring hallmarks like planks and surfaces to connect properly in multi-player situations.
Shuffleboard Table Material Finish & Surface
There is always a remarkable difference in the feel, drift, smoothness of the table surface, and other inherent aspects tied to puck glides. Cheaper tables may be made from lighter wood which ultimately tells of the quality items used. Hard-grade wood has the basic and functional advantage of longevity & better playing experience. With high-quality finish, the Shuffleboard tables are remarkably durable and fun to play on.
Cost, Accessories, and Shipping
There are costs associated with the shipment and other extra accessories that may come with Shuffleboard tables. Finding the best appropriate and reasonably priced is crucial as you plan to buy a Shuffleboard table.
Summary: Shuffleboard table games are played by several Americans across ages. It's one game that easy to learn, creates fun in play, and brings people together across seasons and occasions. A high-quality Shuffleboard table is vital to creating the right playing experience & these points enable you to go all about with ease and professional accuracy.
Contact Prestige Billiards & Gamerooms:
For Professional Pool Table Moving, Setup, & Leveling in Phoenix or Arizona.
Email: kevinh@pooltableaz.com Or Call/Text (480) 370-6677