Introduction: pool fascinates and enthuses several keen players for its intricate play rules and demand for sharp attention. Yet for many pool players and perhaps those keenly enthusiastic about the basic pool requirements, pool table details are still a cryptic maze, especially its layout. So, suppose you are to pick up a pool; what are the essentials that you surely would not like to miss out on?
Below, we share detailed standard pool table features that heighten your game to professional levels and proficiency.
Essential Things to Look Out for in a Professional Pool Table
Table Slate
Slate provides the best playing surface, especially for professional pool tables. A strong and resilient pool table slate, preferably from certified manufacturers, assures the table's durability and better smooth playing surface. Slate is usually heavy and therefore requires professional transportation and installation to provide the best experience in play. Besides, the firm setting it gives, true slate from certified billiards tables manufacturers guarantees your table conforms to most pre-set standard play guidelines.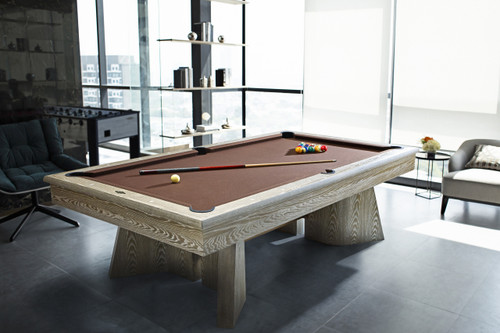 There are other options to slate that may equally provide but not the longevity and durability factor as may be desired.
Table Size and Accessory Dimensions
Pool tables are styled and designed differently yet with standards that display their type of play. A professional pool table must live up to specific dimensions, including a 9 feet-long span, standard professional cues 56'-57' (1.44 meters), and a 14' by 18' spacious playing room.
A professional pool table takes up larger space, and so are its accessories. For pub-size pool tables, the length and span vary from 7-8 feet, with sufficient back space for pool players' easy movement.
Professional pool cues – 54-56 inches on 9 feet pool table.
Bar pool cues – 48-52 inches on 7-8 feet pool table
For 8 ball pool -1.39-144 meter cues and 9 ball pool – 1.44-meter cues are standard accessories for a professional experience.
Table Style and Design
Professional and pub pool tables will carry a variety of styles that will affect the overall feel of the play. Whether in contemporary, modern, or classic pool table style, there are preferences to choose from depending on the style of table chosen. Pool tables across sizes and styling will carry basic and modern accessories that elevate the pool playing experience. So, in any choice of styling, you can be sure to access unique play accessories.
Pool Table Budget, Installation Cost and Room Measurements
It is one thing to buy the pool table within budget and discovers other factors that were slightly overlooked or undermined. The first priority is knowing whether you have the exact fitting place to fix it. That includes the playroom dimensions, total transportation, and installation costs. A pool table takes up significant space, and this must be well calculated and measured in advance to guarantee the best table purchase.
Summary: choosing to buy a pool table is a long-term investment as the best of these tables last years. It is best to make an informed choice with these stats to ensure your table, accessories and playing area are up to standard with the highest quality construction. Find out more with the reliable pool table technical inputs from prestigebilliards.com.
Contact Prestige Billiards & Gamerooms:
For Professional Pool Table Moving, Setup, & Leveling in Phoenix or Arizona.
Email: kevinh@pooltableaz.com Or Call/Text (480) 370-6677